Hedge trimming for better garden organization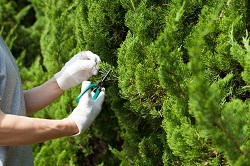 Are you tired of plain borders for your garden and looking to spruce up the look a bit? Do trespassing animals ruin your garden and destroy your flower beds? Does the garden shed at the end of the lawn ruin the look of the garden but you don't have the budget for putting up a timber screen? Hedge trimming is a multipurpose gardening design to repurpose small and narrow spaces in your garden and layer your foliage in order that your garden might appear to have a dense growth. Apart from that, hedges also help to increase security at the edges of your gardens, preventing animal pests from entering the premises and creating a barrier between passers-by and the privacy of your home. Layering shrubs and low lying trees can also help to diversify the look of your garden and make it seem more dense, plus, it is a good way of adding perspective to the landscape. However, growing hedges require a lot of maintenance on a regular basis, and might get a bit handful for you to do. So call Landscapers Gardeners on 020 3743 9746 and let them know of your hedge trimming requirements whenever you need it.

Unlike what some would have you believe, pruning is not child's play. There are many gardeners out there who are not aware that hedge cutting requires more skills than knowing how to work with a pair of shears or a hedge trimmer. This is okay if you are simply shaping topiary, but most commercial, public or private gardens, intend to maintain the pristine look of the topiary, which means that they are looking for formative pruning. As such, an ill-informed hedge cutting can leave the trees and shrubs superficially tidy but destroy their ability for regrowth, making them seek more attention and resources than they would normally need. This would increase your costs in gardening services and other supplies. Our gardening professionals are aware of the damage that improper hedge trimming can do to the plants, and to the landscape as a whole. Which is why our highly trained experts are the best team in London to give you the best quality of regular maintenance without incurring unnecessary costs.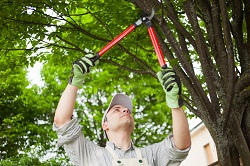 Whether you hire us for a one-off tree cutting or a regular maintenance of your hedges and topiary, we have the experience and expertise to handle any scale of job. No matter what the height, vigour, and frequency of your hedges, we will always make sure that we allow for maximum airflow and encourage full growth and flower development on the trees and shrubs. Increased aeration both below and above the surface allows the plant to encounter less disease and pest problems. Our tree cutting services also involve trimming at the base so that there is enough space to access for weeding or adding foliar feed. We will even go as far as to dispose of the cuttings and trimmings for you, so that we leave behind a clean and tidied backyard for you to enjoy and relax in. Apart from these, we are also operating a full tree surgery service that takes care of felling, lopping, shaping, dead wooding etc.

Contact Landscapers Gardeners to book a time when it will be convenient for you to meet our garden experts and arrange for a free appraisal and quotation for your garden needs. You can hire us on a one-off basis, and if you like the way we perform, we can extend the contract to a longer period. You can also call us on 020 3743 9746 for any emergency tree surgery services.