Lawn mowing that gives it a new look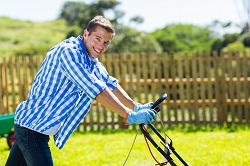 You wouldn't bring people in to your living room with an unkempt, dirty, threadbare and torn carpet laid across it, would you? So why leave your lawn in such a state?! Doesn't matter how much time you spend in the lawn area or whether it is big or small, your lawn is the first thing that people see when they enter your house. No matter how you use the space and what portion of your outdoor space the lawn covers, it is undoubtedly going to attract some of attention to it. Not only that, it forms the foundation of the rest of your garden, it is the background against which you want to show off your new and colorful blooms. Now, if you look outside, and see anything less than a perfectly lush green, probably striped, turf that speaks of care, space and health, then you need to call our lawn maintenance professionals on 020 3743 9746 and have them transform your lawn to a sprightly green space.

Landscapers Gardeners has been one of London's best gardening and lawn maintenance company for several years now and several schools, corporate buildings, business parks, public spaces and private homes have entrusted us with the responsibility of maintaining their grounds. With years of experience behind us, our lawn care professionals have become very proficient in identifying the needs of your ground and producing a lawn treatment routine that is designed to pro-actively improve the appearance and quality of your grounds. Not only do we include the common maintenance services such as lawn mowing, trimming, weed removal, seasonal bedding, leaf clearance and others, we also offer regular lawn treatment sessions to ensure that we can maintain the grounds that we have strived to achieve and prolong its life so that you can enjoy a pleasant and relaxed garden outdoors.

When you hire us, you can be assured that you will receive the best lawn care service in London. Our team is encouraged to be customer oriented, which means that we are committed to delivering what you want. With us, you will always be able to have an open communication at every step of the process and will have a personal horticultural team allotted who will manage and monitor the improvement and renovation works. We foster a very sustainable and environmental friendly outlook in our work and products, and encourage recycling of seeds, grass cuttings etc.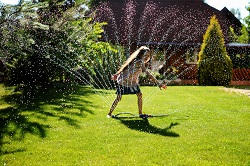 Landscapers Gardeners has a reputation for being very accommodating of our client's demands and giving successful results within difficult time limits. Given that lawn mowing constitutes a majority of the business, we have several service packages that range from simple grass cutting to complicated re-turfing and revitalizing. We use high quality equipment that can work outdoors all year round, trim lawn edges and remove cuttings, remove thatch infestations, aerate and replenish top soils, remove and/or minimize weeds, pests and diseases, regularly fertilize the lawn and take care of barren or worn patches that might occur. We can even organize a customized seasonal or monthly lawn care plan for you, so that you can save on additional costs and get superior service. Along with perfection, we also place high emphasis on health and safety for all – our clients, staff and public. So you know that when you hire us, that aspect will not be neglected when designing and maintaining the grounds. If you want to learn more about our lawn mowing services, give us a call at 020 3743 9746 and speak to one of our team members.